The anime adaption of Showa Genroku Rakugo Shinjuu started airing on January 8th, 2016. It originally ran for 13 episodes[1] and streamed on Crunchyroll. The first season covered the 2nd to 5th volumes of the manga.[2] It is part of the Animeism programming block.[3]
The upcoming 2nd season will cover the 3rd story arc, Sukeroku Futatabi-hen (Sukeroku Anew part) and will air starting on January 6th 2017.[4][5][6] The tagline for the second season is, "Fleetingness is also treasured. That is living (rakugo)."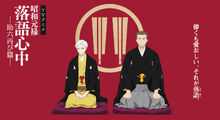 List of episodes
Yotaro Hourou-hen (Yotaro Wandering part) - a double length episode (48 minutes) re-adapting the OVAs.
Episode 3
Episode 4
Episode 5
Episode 6
Episode 7
Episode 8
Episode 9
Episode 10
Episode 11
Episode 12
Episode 13
Staff
DVD/BD Gallery
External Links
References
Ad blocker interference detected!
Wikia is a free-to-use site that makes money from advertising. We have a modified experience for viewers using ad blockers

Wikia is not accessible if you've made further modifications. Remove the custom ad blocker rule(s) and the page will load as expected.